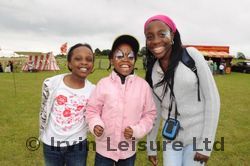 I thought you, our website reader, would like a quick update on some of the charities we have been supporting in recent weeks. The picture on this feature is from the wonderful Starlight Day at Popham Airfield where we were delighted to supply for this, two of our fun games stalls and you can view these in the background. There were lots of companies like us giving their time and support to assist those children with serious illnesses and their families have a great day out, and you can find out more about Starlight, and support them too, by visiting www.starlight.org.uk
We often make financial contributions to worthwhile and appropriate causes in the boroughs in which we work, and when in Brent we support the local Mayor's charity appeals, and this year we also supported the Barn Hill Conservation Group who help to preserve the Fryant Way Country Park and also the Roe Green Walled Garden, and also arrange for groups of school children to visit and enjoy these important areas of this lovely borough in north London.
Whilst undertaking one of our many popular projects for Tate and Lyle we made a contribution to Justicia, a not for profit company based in Bolton who campaign on behalf of and sell Fair Trade products and environment friendly goods as well as ethically produced items. Their shop is staffed by volunteers and our cheque will help with refurbishment. If you are in Bolton, visit them in Knowsley Street.
We shall give a small plug for our friends from Kids Company, www.kidsco.org.uk, with whom we worked in Hackney earlier this year and with whom we will be working again. They are a source of hope for children who are suffering in their childhood and run many projects in and around London.
Last but certainly not least, we have recently supported two charities that support our armed services. The first of these, and the longest standing, is the Army Benevolent Fund, and the other is Help for Heroes who are recent and perhaps receive a lot of publicity from their support from newspapers. Both of these causes do sterling work in assisting soldiers who have been injured and both need and deserve our support at all times. You can donate to the Army Benevolent Fund at Mountbarrow House, 6 – 20 Elizabeth Street, London, SW1W 9RB and Help for Heroes website is www.helpforheroes.org.uk. We contributed to both of these whilst at Woolwich Common recently on Ministry of Defence land, and perhaps you too will make a donation no matter what size to these two.