Hi George, hope you are all well. I read something on facebook a short while ago about your speedway and the size of the centre island. I have some of Philip Bradley's notes, he lived in Epsom and recorded London fairs from the mid 30's, and is usually reliable. He says your grandad George had the Rytecraft ride in August 1939, it had 6 straight sections and 8 end sections and was banked at the end. Had no bottom shutters, gates, or roundings. Had 4 trestles, one rafter per section side and ends and pay box on the island, which looks 8ft wide. Had 10 Rytecraft cars. He first saw it at Hounslow Heath in August 1939. The pay box was painted orange in 1942, and the top was repainted in orange in May 1944. Had 10 new Lang Wheels cars for 1950, and new outside pay box. Unusually he doesn't say who it was sold to, but he says your grandad had a new Lang Wheels Speedway in 1954, the same shape as the old one, and I wonder if this was the Rytecraft machine re-built by Lang Wheels. It first opened at Ashford in March 1954.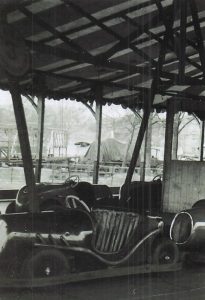 I have not forgotten tht One Pair of Shoes. I went through it and added all the bits that were missing, there were a few, and checked the spelling as best I could. Then I gave it to Steve Smith, who used to teach English before he became a headmaster, and he double checked it, including things like what lines speech marks should be on, as I am not too good at that. I have made a start on a provisional layout and will get it to you as soon as possible.
My health has been crap because I am waiting to have my gall bladder removed, but yesterday I heard there is a backlog of 2 million small
operations, and becaut e of covid it is getting worse. At least I know it is not fatal, just bloody inconvenient at times. In normal times I would have had it done ages ago.
My mum is getting to be quite a problem, going downhill fast I am afraid. Been in hospital twice, and have had to take her to the doctors 3 times in 3 weeks. She gets very short of breath, is tired all the time, constantly nodding off, and gets a lot more confused than she used to. At least my sister has made up with her. She insists on getting up every morning, but then just keeps nodding off in the chair, so a bit of a worry.
Will be in touch ASAP.
Forgot to say, your Grandads Speedway was new the week before war was declared, and that is probably why it didn't have rounding boards and shutters. A lot of machines new in 1939 were not finished off properly as the companies who built them were transferred to doing work for the war effort. So Autodromes, Moonrockets and arks didn't get their fronts for years, if at all. The same must have applied to Ryrecraft.
Yes my dad and grandad explained why the Speedway came home with no scenery as wood was not allowed to be used anymore due to the possibility of the war breaking out. We even had tin rafters 2in x 2in box tin and we still used these up to 1973 when we converted the roof to a flat one.
Sorry to here about Mum but unfortunately this is age.
I'm really looking forward to the input from the two of you in one pair of shoes.
In 1954 the Rytecraft track was rebuilt by Lang Wheels by building a new bottom with a sloping floor all round. This was not as good as the Rytecraft layout and the reason why in 1973 we we took the slop out of the sides.
The rest of the comments from Philip Bradley are all correct.
As for the gallbladder I had my one removed privately with no problems with keyhole surgery about 15years ago and you can get it done privately at short notice even now.
Regards George