Over the past week alone we have heard from members of the Irvin family who have come across our website and tracked us down. We are always delighted to learn more from people who read these articles (and it is nice to know that someone, somewhere, actually is!) so this is what they sent. First of all from Jackie Tidey. Jackie writes about her beloved grandmother:
My great, great grandmother was Harriet Phelps who married William Irvin. Attached are two photographs, the group photo is of my grandmother Ruby (standing in the stripe dress) with her sister also standing.  Her mother sitting is Ethel Paine Nee Irvin with her husband Albert standing behind her. This was taken in Atwell Street, Peckham, at a guess taken around 1945.
The other picture is Ethel Irvin but I do not know how old she was when it was taken, she married on 25 Dec 1911 and my grandmother Ruby was born on 12 May 1912!!!! She appears to have a wedding ring on in this picture and I have a feeling my Nan told me it was taken on her wedding day but I could be wrong. My Nan Ruby told me stories of the fairgrounds and how as a little girl would turn the drums which played the music, I vaguely remembering her telling me the story of her Aunt who died in an accident, so was interested reading the story of Ruby who died.  My Nan died in 2006, who I miss dearly, my dad might be able to give me some more information on the family, which if he has I will forward to you.
If you have any further information I would be very pleased to hear from you.
Then we also heard from Malcolm Gill, who has set us a mystery as he tells us:
My great grandfather John George HARRIS married Caroline IRVIN in 1878 in St Saviours, Southwark. I believe that Caroline had a connection to the Irvin travelling fairground folk. If this is the case can you tell me where I might gather some more information?
Well, we set our friend John Comino-James on the track of both of these and he tells us:
The information I have is that Ethel, daughter of William Irvin and Harriet Phelps married Albert Paine in 1911 and that they had two daughters, Florrie and Ruby May. Ruby I believe married a man by the name of Plummer. I'm pretty sure that the bones of this apart from the date came from George's father when I first met him in 1999.
What would of course be interesting would be to fill in the lines relating to Florrie and Ruby although it seems likely that the descendants moved away from the business.
Regarding Caroline, he is trying to find out more including tracking a marriage certificate! So we will have more to come and will update this article when we do.
Now Jackie gives us even more information for which we are grateful:
My great grandmother was Ethel Irvin, my records show she was born in Burnham Beeches, Bucks on 31 Jan 1892 and died 23 Aug 1946 (daughter of William Irvin (b.1859 d: 26 Nov 1917) and (Harriet Phelps B: 1857 D:12 Dec 1933) Harriet and William married on 26 Jun 1882.
Ethel maried Albert Victor Paine on 25 Dec 1911 (Albert was born on 23 Nov 1890)they had two children Ruby May (my grandmother) born 12 May 1912 and died 1 Jan 2006) and Florrie.    My nan Ruby married Bernard John William Tagg on 23 Sept 1934 and had my Dad Bernard Albert Tagg B 13 July 1935, they also had another child Brenda but she sadly died when she was two.   Florrie married and had one daughter Patricia, which i do not have the dates for but my Dad may be able to help if you would like more information.  Ruby divorced Bernard Tagg and later married Tomas Plumber who I remember fondly.   My lovely Nan passed away on 1st January 2006 and I miss her dearly. I hope the information helps and if you need anything further please let me know. I will speak to my Dad and see if he has any other information, I know that Ethel was the first menber to live in a house, and while my Nan Ruby was living in Attwell Street Peckham in the 1940's she used to keep in touch with her relatives from the fairgrounds.
Yes please Jackie, do ask your father if you do not mind!
And now a piece of family history from Malcolm Gill, the marriage certificate of John George Harris aged 22, bachelor, carman (drove a Southern Railway delivery wagon) of 279 East Street married Caroline Irvin aged 20, spinster, of 40? East Street, father's name James Irvin (deceased), commercial traveller. Witnesses William J[a,o]cey and Richard Winter. 
Malcolm is now trying to find out even more, and we will keep you up to date on this! Fascinating and our friend John Comino-James will be looking at this too! Thank you so much for this Malcolm.
Even more information, now from David Cain:
Our great aunt did a family tree for the Cain family some time ago.
The original David Cain was a farmer from Aylesbury. He was born in 1826 and died 1902.  He had 4 children one of whom was Charles Cain, our Great Grandfather, he was described as showman and china dealer and opened the ground in Deptford.
Charles Cain married Hannah Knighton daughter of Elizabeth Irvin and Thomas Knighton. Thomas Knighton was Elizabeth's 2nd husband, her first was John Irvin. According to the tree she had 19 children with John Irvin, including Henry Irvin from Scotland and John Irvin of Sanger's Circus. John Irvin had 2 children Harry and Florrie Irvin.
With Thomas Knighton, Elizabeth had Thomas and Hannah.
Charles Cain and Hannah Knighton married in 1884 and had 8 children including our grandfather Tom Cain, Charles Cain jnr (Charlie) born in 1887 and David Cain born in 1888. These were the Cain Brothers who ran the ground at Deptford which finished in the 1960s and sold the china on the grounds.
Now some questions about the family, and we look forward to finding answers to them.
I've contacted you previously in an attempt to establish if my great-grandfather John George Harris' wife Caroline IRVIN is connected to your family in any way. My cousin Peter Cooper and I have made a good deal of progress in researching the Harris family but we are still unable to track down Caroline's family conclusively.
We know Caroline's father James died (we can't establish when) causing her mother Elizabeth to marry again. She married Thomas Knighton and their daughter Hannah, therefore half sister to Caroline IRVIN, went on to marry Charlie Cain whose family ran the Deptford showground until the 1960s. We now have the connection between Caroline IRVIN and the Hannah CAIN.
The family history page on your website mentions that David CAIN made contact with you with details of his family history. It's clearly the same Cain family that's connected to my family's history. I'd dearly love to be put in touch with him to try to nail the IRVIN connection one way or the other. Could you please be so kind as to pass on my contact details to David Cain and ask him if he would get in touch? To whet his appetite please find attached a photograph of Hannah Cain that Peter Cooper's sister has unearthed.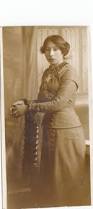 As ever, kindest regards
Malcolm Gill